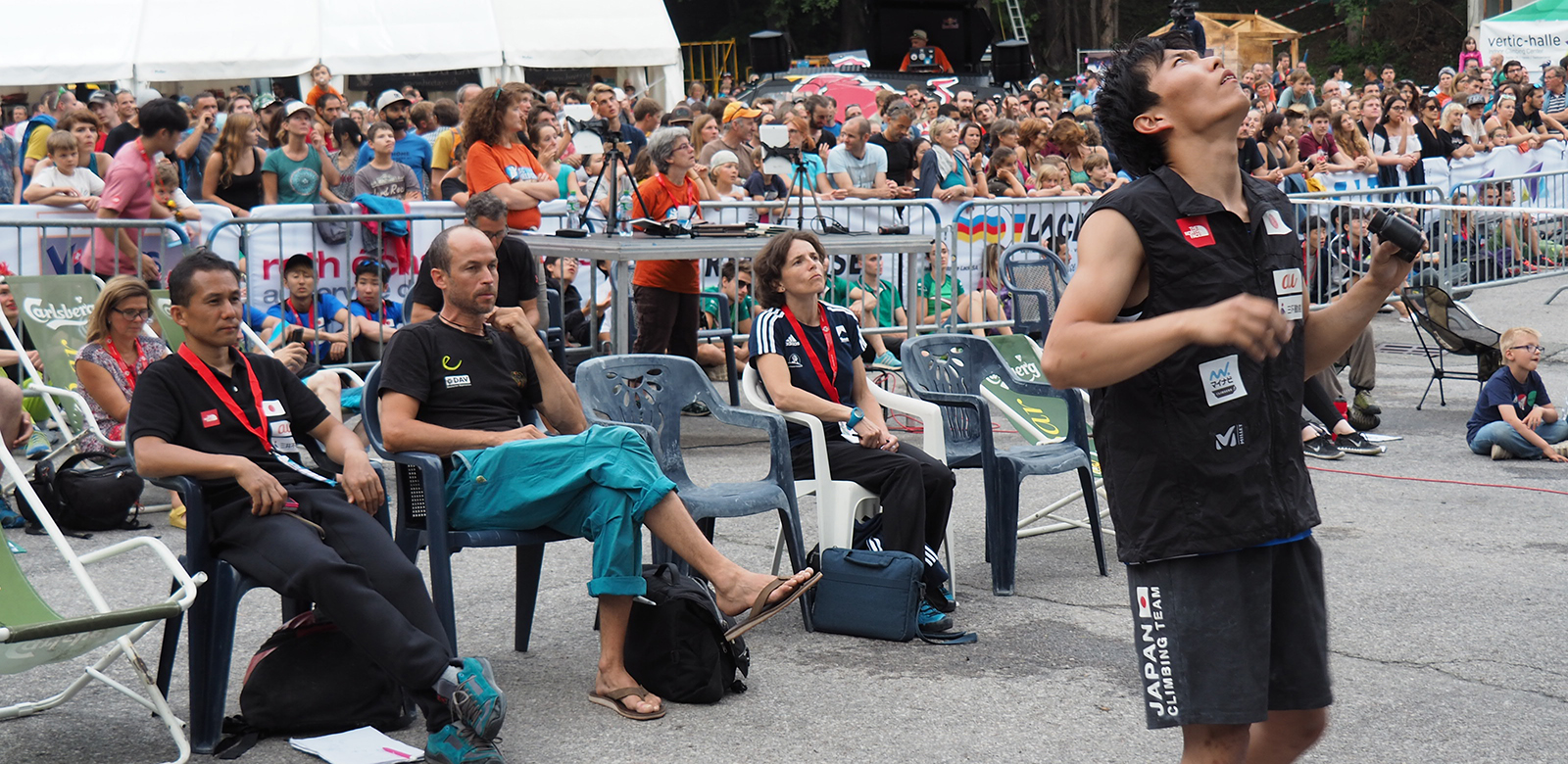 元日本代表コーチの経験を活かし実技指導や指導方法等を海外のチーム、ジム等で講習(ルートセット含む)を行います。
施設環境の充実している日本でのトレーニングや講習会も引き受け可能です。
*基本料金1日250-300USドル(要相談)
*渡航費、宿泊費、食費(休養日は除く)、現地ジム使用料等の経費は負担をおねがいいたします。
Provide technical training and teach coaching skills to non-Japanese climbing team, and offer training sessions (including route setting) at gym, taking advantage of head coaching experience in the Japanese National Team.
Training sessions in Japan where the training environment is well developed can be undertaken.
* Basic charge: 250-300 USD/day (Negotiable)
* Please bear the cost for travel, accommodation, daily allowance (except day-offs), gym charge, and other necessary expenses.
Offer training sessions and route settings overseas.
JOB EXAMPLES:
Following activities are available:
Training for climbers with the methods which Japanese Team has adapted
Training for coaches with the aim of improving the level of coaches
Training camp for 2-3 weeks in your country, a few times a year
Training camp in Japan
Route setting for competition as well as workshops for route setters
Accompanying your team to international competition games if need
TARGET
Japan National Climbing Team is one of the strongest teams, now ranked top in bouldering and the 3rd place in lead. How did Japanese Team become such powerful? In the past, climbing strength and power mostly depended on personal training and athlete's efforts, as represented by Yuji HIRAYAMA, and Sachi AMMA. Meanwhile, learning new training theories from Europe, the team has developed its collective strength systematically over 10 years with building the team's bench strength, encouraging each other.
COACHING METHODS
Development of team strength is focused on, rather than individual's, by sharing training methods among team members to enhance their competitive consciousness that builds up the team's capacity gradually and levels up their climbing skills.
If proper training is given to youth climbers, the team's future competitiveness will become much higher.
Climbing coaches should know proper coaching methods and skills.
Route-setting is available depending on climber's level and training objectives.
ACCOMPLISHMENTS:
– Developed a foundation of Japanese climbing gym culture for 26 years through participating management of the climbing gym "Pump" since 1993.
– Certified as an IFSC international route setter in 2001, and experienced route setting in international competitions including IFSC World Cup and various competitions in Asia, as well as major competitions in Japan.
– As a climbing instructor, taught more than 1,000 people in the climbing gym, and trained many climbers to be outstanding athletes, including following climbers.
climbers to be outstanding athletes, including following climbers.
Rie KIMURA (Spouse)
1996-1999 1st ranked of the year in Japan
1997 1st place in Asian Championships Iran
2001 Finalist in IFSC World Championships, Switzerland
Yuka KOBAYASHI
Participated more than 100 international competitions.
2nd place in IFSC World Cup
Keiichiro KORENAGA
     
2017 3rd place in 2017 IFSC ranking (Lead)
Taishei HONMA
     
2018 8th place in 2018 IFSC ranking(lead)
– Appointed a Head Coach of Japan Mountaineering Sport Climbing Association (JMSCA) Youth Team from 2009 to 2015, and achieved remarkable results in many international competitions.
– Acquired various training theories and methods from other country's trainers during the training camps in Austria, Germany, France, and Slovenia. Applied them to the Japan Team with original arrangement.
– Appointed a Head Coach of the Japan Team (lead) from 2016 to 2017, and led the team's training.
WORK EXPERIENCE
Climbing Gym PUMP, Japan
1993-2019 General Manager
Japan Mountaineering Sport Climbing Association (JMSCA)
2009-2015 Head Coach, Youth National Team
2014-2017 Vice President, Sport Climbing Commission
2015-2017 Head Coach (Lead), National Team
CERTIFICATION
– IFSC International Route Setter
– Sport Climbing Coach certified by Japan Sport Association (JSPO)
Japan Mountaineering Sport Climbing Association (JMSCA)
2009-2015 Head Coach, Youth National Team
2014-2017 Vice President, Sport Climbing Commission
2015-2017 Head Coach (Lead), National Team
ACTIVITY
– IFSC International Competition Setting: More than 20 times
– JMSCA National Competition Setting: More than 50 times
– Personal Best Competition Results: 3rd place in the First Asian Championship 1992, Korea